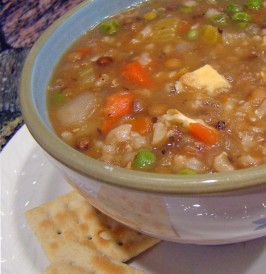 Perhaps many of you have heard of them, but not all have tried them. Lentils are a fantastic pantry staple: easy to cook, versatile and packed with powerful nutrition. To find out why and how to cook with them, read on.....
1. High in fiber
Because lentils contain a high amount of soluble fiber, they may help lower blood cholesterol levels. Maintaining good cholesterol levels lowers risk of heart disease over time. Plus fiber helps keep you full for longer, potentially lowering overall caloric intake.
2. Big in protein
Lentils are a friend of vegetarians and vegans alike because they are a great source of non-animal protein. But that doesn't mean everyone can't enjoy them. In fact, lentils can be easily substituted in many recipes that call for animal meat (see a couple of recipes below).
3. Great source of folate
Food sources of folate - together with vitamin B12 - help prevent heart disease because folate lowers homocysteine levels. In addition, folic acid deficiency has also been linked to depression and resistance to antidepression medication. But take note that the same benefits have not been shown from supplementing folate and B12, so whole food sources are the way to go.
Always wanted to try lentils, but not sure what to do with them? Here are a couple of recipes I love:
Slow Cooker Lentil & Brown Rice Taco Filling
Lentil & Brown Rice Vegetable Soup
There really is nothing bad to be said of lentils. Make them part of your performance nutrition plan today!
Be Extraordinary,
RDKate